Graciela Gimenez
Age 82 • Argentina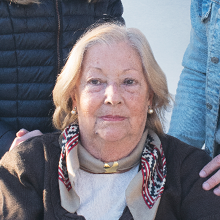 Graciela was born in the city of Goya in the province of Corrientes, Argentina. She married young at age 19 and went on to have five children, 15 grandchildren (in the photo, Ignacio 31 years of age, and Martina, 14 years of age) and six great-grandchildren! She always enjoyed family gatherings, and her hobbies included home decoration and studying French.
Graciela went through early menopause, and at the age of 45 she was diagnosed with rheumatoid arthritis for which she was prescribed, among other drugs, glucocorticoids over a long period of time. In retrospect, it is clear that Graciela had two significant risk factors for the development of osteoporosis: early menopause and long-term use of glucocorticoids, both factors which accelerate bone loss.
At the age of 78, Graciela began to experience severe pain in her spine. After consulting with spine specialists, a vertebral fracture was identified and a vertebroplasty procedure was performed. The pain diminished, but in time she developed new vertebral fractures. At that time Graciela's doctors carried out more extensive assessments, and she was subsequently treated with zoledronic acid for severe osteoporosis, due to multiple risk factors.
Despite her clinical improvement, after 14 months Graciela sustained a femoral neck (hip) fracture. Later she was prescribed treatment with teriparatide, with positive clinical results. She was able to walk and resume many of her daily activities at home. Currently, she has developed fractures in her left foot, which is why she is momentarily using a wheelchair. She is fortunate to have a large and loving family for support!
It's been difficult, but in spite of her multiple fractures, Graciela has not lost her joy of life or her beauty.
Graciela nació en una ciudad llamada Goya de la provincia de Corrientes, Argentina. Se casó joven a sus 19 años y tiene cinco hijos, 15 nietos (en la foto, Ignacio de 31 años y Martina de 14 años) y seis bisnietos. Siempre disfrutó mucho de las reuniones familiares, arreglar y decorar su casa y estudiar francés.
Ella tuvo una menopausia temprana y a los 45 años le diagnosticaron artritis reumatoide para la cual recibió, entre otros medicamentos, glucocorticoides durante un largo período de tiempo. En retrospectiva, está claro que Graciela tenía dos factores de riesgo importantes para el desarrollo de osteoporosis: menopausia precoz y uso prolongado de glucocorticoides, ambos factores que aceleran la pérdida ósea.
A los 78 años, Graciela comenzó a experimentar dolores fuertes en la columna. Después de consultar con especialistas en columna, se descubrió que tenía una fractura vertebral y se sometió a un procedimiento llamado vertebroplastia. El dolor disminuyó, pero, con el tiempo, tuvo nuevas fracturas vertebrales. Los médicos de Graciela realizaron evaluaciones más exhaustivas y, posteriormente, fue tratada con ácido zoledrónico por una osteoporosis severa, debido a múltiples factores de riesgo.
Después de 14 meses, y a pesar de haber mejorado clínicamente, Graciela sufrió una nueva fractura. Esta vez fue una fractura de cuello femoral (cadera). Se le prescribió tratamiento con teriparatida y el resultado clínico fue positivo. Graciela pudo caminar y reanudar muchas de sus actividades diarias en casa. Actualmente, ha tenido fracturas en su pie izquierdo, razón por la cual está momentáneamente en silla de ruedas. ¡Por suerte tiene una familia numerosa y amorosa que la apoya y siempre está a su lado!
Ha sido difícil, pero a pesar de sus múltiples fracturas, Graciela no ha perdido su alegría de vivir ni su belleza.