Karlien van der Schyf
Age 38 • South Africa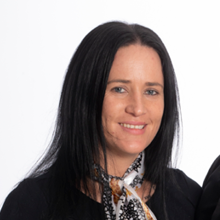 She is flying downhill, feeling fantastic and thinking she is really going to do this. She has only 20 km's left in a race that she has been training for and dreaming about for year – the coveted Comrades Marathon.
She looks over and sees him, her lover and her soul mate, Gawie, with his bushy hair and his long run smell which is intoxicating to her. With butterflies in her tummy and in-love eyes, she feels a sudden very sharp pain and a horrific sound midstride. She looks at Gawie and says to him "Something is wrong with my leg, it is giving in, it's not working".  She tries to walk, to run, to put weight on it - but can't.
Her leg simply does not want to work. He looks at her and tells her to try to run to the medical personnel. She manages it, where they strap her leg, but the pain worsens. She receives pain meds and drinks them without question. Then, a spectator starts spraying her leg with something cold. She's on a high from al the pain killers but the pain is still unbearable. Gawie is desperately pleading with her to keep going as he can see the desperation and devastation in her eyes. They have done everything right and they gave it their all. She looks up at him, trying to stop her tears and says to him "My leg doesn't want to work, we have worked so hard for this, you run, keep on going". With a lot of convincing he kisses her, turns around and starts running. She looks away, defeated and as she sits down, her love and soul mate sits down next to her and she knows the Comrades is over for both of them.
In the hospital she is lying in a 4-bed ward with 3 other people all over the age of 80. It seems they all have the same condition. Yet she is almost 50 years their junior. Her name is Karlien van der Schyf (38) a qualified Clinical Neurophysiologist and long distance runner, married to Gawie van der Schyf. They have 3 sons. During the Comrades Marathon she broke her femoral neck mid stride from overuse and an on-going stress fracture due to Osteoporosis.
The devastating diagnosis brought on crocodile tears for days as she contemplated her running career being over. Karlien knew that osteoporosis ran in her family but she remained in denial when a highly qualified, wonderful orthopaedic surgeon explained to her that her body wasn't built for long distance running and that she might never run again.  For the next 3 months while on crutches she injects herself daily with a very expensive medicine to promote her bone density and take a variety of added vitamins.
After 3 months she starts walking, then slowly running from one street lamp to the next. The next 2 months she gradually starts running again with on-going injections and vitamin intake. Mentally she is afraid to run long distances and she doesn't trust her leg. But she keeps on running. Six months after her operation she completed her first 42.2 km marathon - an amazing feeling. She runs another 2 marathons in the hope to qualify for Comrades again.
Exactly one year after she broke her leg mid-stride at the Comrades 2019 and found out she had osteoporosis she ran the 90km Virtual Comrades Marathon.
With the support of her husband, living with osteoporosis has taught her not to give up on her dreams. Running makes her happy, she runs for the fun of it, she runs for the adventure of it,  she runs to get fit,  she runs for the beauty,  she runs for the challenge, she runs for the love of the journey, she runs with Osteoporosis.