Santina Russotto
Age 80 • Italy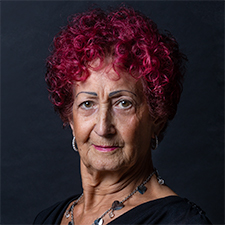 Santina Russotto lives in Florence, Italy. She is eighty years old, has three children and has worked as a clothing designer in Florence and other Italian cities. Her great passion, which she shares with her husband, is dancing - she has been dancing since she was 18 years old. Santina's story shows how good medical treatment, continued physical activity, perseverance, and optimism have kept her active and joyful, even after two serious fractures due to osteoporosis:
"In 2014, I fell down the stairs. It was a minor fall, and I thought I could get up on my own. I assumed that the pain I felt was only due to a bruise - instead I had broken the top of my femur (upper leg).
I already knew that I had fragile bones and I had also taken medicine for it in the past, but I had stopped for two years because I had to do some dental work. Following the fall, I underwent an operation and then was monitored. It wasn't easy and I had to put my great passion on pause for a while: the standard dance, which I have always practiced at an amateur level. 
Slowly and with difficulty, I gradually resumed my life and I started dancing again. But the story was not over. In 2018 I fell again, and this time I suffered a fracture to the other femur. I had to undergo another operation and rehabilitation period. Fortunately enough, I had great assistance; I found a doctor that I trusted, and who kept a close eye on me. This was an important factor in creating a high level of confidence. 
Today, I am scrupulous about taking my medicine and the calcium that I require. I must say that I have begun to live normally again and I have started to dance again - something that helps me to stay young. It was the dancing that helped me start over – my trained body recovered earlier, thanks in part to my strong desire to start again and avoid falls. 
If I can give advice to anyone, it would be to do physical activity. It not only helps you feel better, but you also enjoy yourself and improve your mood. Dancing in particular, is something you can start at any age. At our dancing school, my husband and I are much loved and admired - we are the oldest and, despite having fractured, I have continued dancing! The teachers take us as an example of perseverance and commitment, and this fills us with pride! We have no intention of giving up. Every now and then my husband and I ask ourselves how long we will live - then we look at each other, laughing, and say 'up to a hundred'!
 
Santina Russotto vive a Firenze, in Italia. Ha ottant'anni, tre figli, a ha lavorato come modellista di abbigliamento a Firenze e in altre città della Toscana. La sua grande passione, che condivide con il marito, è il ballo, che pratica da quando ha 18 anni.
Nel 2014, sono caduta scendendo le scale. Era una caduta banale, pensavo che mi sarei rialzata da sola. Credevo che il dolore che sentivo fosse solo dovuto a una contusione, invece mi ero rotta il collo del femore. Sapevo di avere fragilità ossea e avevo anche preso medicinali, ma ne avevo sospeso l'assunzione da due anni perché dovevo fare delle cure dentistiche. In seguito alla caduta sono stata operata e poi tenuta sotto controllo per rischio di necrosi.
Non è stato facile, anche perché ho dovuto per un po' interrompere la mia grande passione: il ballo standard, che ho sempre praticato a livello amatoriale. Con fatica però ho ripreso pian piano a fare la mia vita, ho ricominciato a ballare, ad esibirmi ma la storia non era finita.
Infatti nel 2018 sono di nuovo caduta, e anche questa volta ho subito una frattura, all'altro femore. E quindi un nuovo intervento e una nuova riabilitazione. Per fortuna sono stata ben assistita, ho trovato un medico che mi segue con attenzione e con cui ho un buon feeling: anche questo è importante per ripartire con fiducia.
Oggi prendo con scrupolo i miei medicinali e sto ben attenta ad assumere il calcio che mi occorre. Devo dire che ho ripreso a vivere normalmente, compreso il ballo che tanto mi piace e mi aiuta a mantenermi giovane. È proprio il ballo che mi ha aiutato a ripartire: il mio fisico allenato ha avuto meno difficoltà a riprendersi e il desiderio di riprendere a fare qualcosa di così piacevole mi ha dato un'ulteriore carica, spingendomi a non buttarmi giù.
Se posso dare un consiglio a tutti, è proprio quello di fare attività fisica, perché non solo serve a stare meglio, ma diverte, migliorando l'umore. Il ballo in particolare si può iniziare, e praticare, a tutte le età. Nella scuola che frequentiamo, io e mio marito siamo ormai i beniamini: siamo i più anziani e, anche dopo quello che ho superato, gli insegnanti ci indicano a modello di costanza e impegno e questo ci riempie di orgoglio! Non abbiamo nessuna intenzione di mollare: ogni tanto, io mio marito ci chiediamo fin quando vivremo: poi ci guardiamo ridendo e diciamo "fino a cent'anni"!