Leonidas Redolfi
Age 85 • Argentina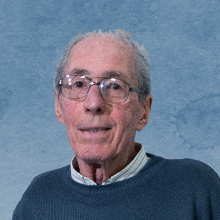 Leonidas was born, raised, and still lives in a small town called Chañar Ladeado in the province of Santa Fe, Argentina. He is a very active and healthy man for his age. Although now retired, he had always, since early youth, worked in the company belonging to his family. He had been blessed with a very rich social and family life, enjoying daily 45 minute walks, his hobbies, driving, shopping and caring for the house where he has lived with his wife for 61 years.
In 2016 he began to feel severe pain in his back. His family doctor referred him to a neurologist since the culprit may have been a pinched nerve. Although he consulted with different spine specialists, his health, the level of pain and his general physical condition worsened dramatically.
Leonidas became bedridden and required nursing care in a local healthcare facility. The psychological impact was severe too. He was forced to give up his job, his social life, his family, his friends. Nothing mattered to him anymore - he felt like giving up on life.
Leonidas' children (one shown with him in the photo) began looking for another specialist who could provide answers. They finally found a rheumatologist specializing in bone diseases who carried out a thorough assessment, and consequently diagnosed severe osteoporosis and multiple vertebral fractures. Leonidas was finally put on an effective treatment plan.  
After two years on treatment with teriparatide and later zoledronate, Leonidas, at 85 years of age, returned to living his life to the fullest. He was able to enjoy many activities again, including his hobby, aviation. This wonderful progress was achieved thanks to the right treatment, family support, and his natural predisposition to take action for his own health by methodically following his doctor's instructions to the letter.
Today, looking back at his own difficult journey in search of the correct diagnosis and treatment, Leonidas urges all adults to ensure that they get early testing for osteoporosis and recommends that they consult with the right specialists. He particularly urges men to ask for testing if they have signs and symptoms that point to vertebral fractures and underlying osteoporosis.
While osteoporosis may be more common in women, even men can be severely affected.
Leónidas nació, se crió y aún vive en un pequeño pueblo llamado Chañar Ladeado en la provincia de Santa Fe, Argentina. Es un hombre muy activo y saludable para su edad. Desde su juventud, trabajó en la empresa de su familia y llevó una vida social y familiar muy activa. Disfrutó siempre de caminatas diarias de 45 minutos y, entre sus pasatiempos, conducir, ir de compras y cuidar la casa donde ha vivido con su esposa durante 61 años.
En 2016, comenzó a sentir fuertes dolores en la espalda. Su médico de cabecera lo remitió a un neurólogo ya que el culpable podría ser un nervio pinzado. Leónidas consultó con diferentes especialistas en columna, sin embargo, su salud, el nivel de dolor y su estado físico general empeoraron dramáticamente.
Leónidas estuvo en cama mucho tiempo y dependiente de los cuidados de enfermería en un centro de salud local. El impacto psicológico fue muy duro. Se vio obligado a dejar su trabajo, su vida social, su familia y sus amigos. Ya nada parecía importarle y tenía ganas de renunciar a la vida.
Los hijos de Leónidas (una de ellas en la fotografía junto a él) comenzaron a buscar otro especialista que pudiera darles respuestas. Un reumatólogo especializado en enfermedades óseas fue quien realizó una evaluación exhaustiva y, en consecuencia, diagnosticó una osteoporosis severa y fracturas vertebrales múltiples. Leónidas, finalmente, comenzó un plan de tratamiento adecuado y eficaz.
Después de dos años de tratamiento con teriparatida y luego con zoledronato, Leónidas, a los 85 años, volvió a vivir su vida al máximo. Pudo empezar a disfrutar de muchas actividades nuevamente, incluida su afición por la aviación. El progreso en Leónidas fue posible gracias al tratamiento adecuado, el apoyo familiar y su predisposición natural a tomar medidas por su propia salud. Él siguió metódicamente las instrucciones de su médico al pie de la letra.
Hoy, Leónidas mira hacia atrás y recuerda su propio y difícil camino en busca del diagnóstico y tratamiento correctos. Insta a todos los adultos a realizar pruebas tempranas para detectar la osteoporosis y les recomienda que consulten con los especialistas adecuados.
Si bien la osteoporosis puede ser más común en las mujeres, los hombres también pueden verse afectados gravemente. Por esta razón, Leónidas hace un llamado especial a los hombres para que soliciten pruebas si tienen signos y síntomas de alerta de fracturas vertebrales y, en consecuencia, una posible osteoporosis.