Jane Miano
Age 71 • Kenya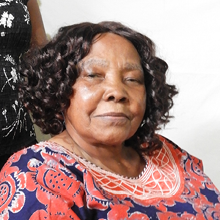 Ms. Jane Nyawira Miano was born in Central Kenya in 1949.  At eight years of age she suffered a bout of polio, and as of then she had to use a wooden pole to help her walk in life.
At the age of 39 years, she fell and sustained fractures in the wrist and shoulder. Although the fractures healed, she was not able to drive due to pain and fatigue.
"In 1988, osteoporosis was not known in Africa as a bone debilitating disease. As years passed by, my arms developed problems. I was not able to use crutches. My foreign friend who is a doctor, told me I was possibly suffering from osteoporosis. It was the first time I had heard about this type of a disease," she recalls.
It was not until the year 2000, when an osteoporosis awareness campaign started in Kenya that Ms Miano sought the help of a local physician, and was diagnosed with osteoporosis.
"The doctor told me that I had low bone mass, which makes my bones thin and fragile."
"I was prescribed very strong pain killers and some calcium supplements. In 2004, I fell again in the house and I had to seek the help of a caregiver. Since then, I have become dependant on her services. Today, I cannot drive long distances and need a driver. I cannot cook or wash the dishes. My arms are weak and always in pain," she says.
She confides that she stopped using calcium supplements after 10 years, because of concern that "too much calcium had accumulated in my body."
Professor George O. Oyoo, a leading Kenyan physician and researcher states: "The first clinical approach when someone gets a fracture is often to strengthen the bones by making sure that the patient has adequate calcium intake. As most Kenyans cannot afford osteoporosis medications, there are not many options for postmenopausal women apart from taking calcium supplements."
"While you are supposed to take 1000mg/Ca per day, if you have calcium deficiency, you can take up to 2000mg/Ca per day."
However, Prof. Oyoo cautions that though calcium supplements are sold over the counter in Kenya and other African countries, the best option is to make sure that a physician is monitoring intake.
"I was only able to walk with the help of a caliper (metal support for a person's leg). Now with age, I cannot use one because my bones have become weaker and are thinning. I need an electric wheelchair and proper medication. I cannot afford to buy an electric wheelchair. I also have to rely on the help of a caregiver to lift me up to the bed and also in the bathroom," she says.
"I used to do some exercises in pushing the wheelchair. Now with the fracture and pain in my wrist, i am not able to do so. I console myself with lifting small weights like a 500ml bottle of water several times a day to make make my arms strong," she says.
"In  Kenya and in all African countries, we need a systematic healthcare provision. A universal healthcare for all those living with musculoskeletal disabilities. We are always seeking adequate healthcare, a continous need for heathcare which we cannot afford," she confides.
"It costs me Ksh. 10,000 (US$ 100) to pay for medicines in a month. Now i cannot afford this much because I am not working. A physiotherapist was asking for Ksh. 1500 (US$ 15) per hour, I cannot afford it either. The only help I have is my caregiver who has voluntered her services just because she is a relative."
The average cost of hiring a monthly caregiver in Kenya is Ksh. 15,000 (US$150), which very few of those suffering from bone health complications can afford.
Ms. Rose Wairimu Wanjao has offered her free support to Ms. Miano since 2004. Without monthly pay she says that it has not been easy for her and her two children.
"I have to prepare her early in the morning and dash out to look for some casual jobs to supplement our income. I need to pay school fees for my children, buy clothes and food for them and take care of my sister. Who takes care of the caregiver?" She poses a question with emphasis and deep bitterness.
Ms Miano says, "We would like our country to develop social systems like those in Japan where they have human care associations, dealing with peer counseling and independent living. Independent living is what is lacking among people living with bone disabilities especially those living with osteoporosis in Africa."
The caregiver's daughter, Ms. Ann Wangeci, accompanied Ms. Miano during the Global Disability Summit held in London 2018, to help her push the manual wheelchair.
"In London, I witnessed a lot of difference. They have friendly buses for those people living with disability. They have wheelchair ramps. But our manual wheelchairs are huge and would get stuck in the bathroom doors. It was a great challenge for me, wheeling her all around while others had easy- to-use electric wheelchairs," says Ms Ann.
Ms. Ann, who is a second year University student in Nairobi, has decided to specialise in social work studies so that she can work to change the "social environment for those suffering from bone disabilities in Kenya."
"I realised that in Africa, we are lacking a serious commitment in making assistive technologies available and affordable for those in need. There are more than 4.4 million people living with dissability in Kenya and they are often invisible in society. Their voices are never heard," she says.
An osteoporosis prevalence study done in a gynecological clinic by Dr. Felix Odawa, a Kenyan physician, indicates that approximately one third of black postmenopausal women had osteoporosis, indicating that the country's osteoporosis prevalence is more or less similar with what is seen in western countries.
"The disease is so important that the WHO declared the Bone and Joint Decade 2000-2020, which was ratified by the then Minister for Health Hon. Charity Ngilu, now Governor of Kitui County. She endorsed the Bone and Joint Decade with some commitment that the government would support efforts to minimise the effects of osteoporosis and arthritis. In her endorsement, there were suggestions that osteoporosis and arthritis were to be included in the strategic plan for the Ministry of Health. The WHO has now extended the Bone and Joint Decade to 2022," says Prof. Oyoo,  who is also the Chairman of the Arthritic and Rheumatology Society of Kenya (ARSK) and Lecturer at the Department of Medicine in the University of Nairobi.
In 2008, the Ministry of Health, Division of Non-Communicable Diseases issued a letter of endorsement to confirm their collaboration with Osteoporosis Prevention and Age Concern (OPAC), a pioneer bone health organization based in Kenya, for the establishment of an East African Region information Centre for Osteoporosis.
"We have now developed a Sub-Saharan Region network in partnership with the International Osteoporosis Foundation (IOF), based in Switzerland, in search for donors to create a media awareness campaign starting with an Osteoporosis Magazine for policy makers, physicians, health workers  and patients, among other bone health activities," says Mr. Joseph Kabia, President and Project Cordinator Sub- Saharan Region.
"The greatest challenge in osteoporosis in this region is lack of information and diagnosis. Ms. Miano suffered for so long due to lack of DXA machines in our National public health facilities. We are  working to make sure that population bone health in Kenya and the Sub-Saharan region is well factored in the respective government health strategic plan, " he says.
Ms. Miano concludes: "Having grown up with disability when there was little support available, I would like to make sure that the silent voices of all people suffering from osteoporosis and other forms of disabilities in the world are heard, supported with life skills, knowledge, medication and the equipment they need to live their lives to the fullest."