Olga Kutumova
Age 62 • Russia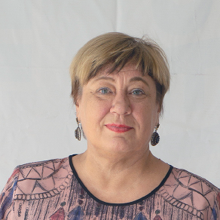 Olga Yuryevna Kutumova was born on 11.11.1958 in the Krasnoyarsk region, which is the geographical center of Russia. Even from a young age Olga was determined to connect her life with medicine, and indeed, in 1982, she graduated from Krasnoyarsk Medical Institute with a medical degree.
Over the last twenty years Olga has been successfully developing preventive medicine in the Krasnoyarsk region. She is assistant professor, chief physician of the Krasnoyarsk Regional Centre for Public Health and Medical Prevention, and chief freelance specialist in medical prevention in the Ministry of Health of the Krasnoyarsk region.
In addition to her success in her work, Olga has a loving family – including her son Denis and 9-year-old granddaughter Victoria - with whom she loves to spend her leisure time.
Olga has always been a physically active and healthy person. Due to her profession, and knowing first-hand the importance of disease prevention in order to maintain health, she was careful to monitor her own health. But about five years ago in mid-2015, Olga had a hypertensive crisis. As a result of this incident, she found herself requiring hospital treatment.
During the examination to identify the causes of her unstable blood pressure, the doctor, while carrying out the clinical assessment, focused on Olga's complaints of spinal pain, especially in the lumbar sacrum (lower back). According to Olga, the pain periodically manifested itself, but due to the rapid rhythm of life, a high degree of responsibility in professional activities and psychological confidence in her own health, she did not pay due attention to the intermittent pain.
The doctor suspected degenerative changes in her spine and referred Olga for a number of additional examinations. Densitometry was performed, the result of which showed a decrease in the mineral density of bone tissue. In addition, the clinical blood analysis revealed a calcium and phosphorus deficiency. There was no doubt—she had osteoporosis, the "silent disease".
Despite the fact that the diagnosis was unpleasant, Olga was nevertheless lucky to be one of the few patients in which osteoporosis is detected at an early stage before the severe consequences occur - irreversible thinning of bone tissue and resulting fractures.
Olga was promptly prescribed medication therapy, her diet was adjusted and a set of suitable physical exercises was developed.
Over the last five years, Olga has been successfully moving towards improving her quality of life and is making progress in the fight against this insidious disease. She carefully monitors her diet, maintains a high level of regular physical activity and regularly undergoes medical examinations.
This year, Olga has become fond of dancing and training on sports simulators on specially equipped sports grounds. Sometimes she goes to classes with her granddaughter. They like to spend time together - actively, cheerfully and positively. In the streets of Krasnoyarsk this year a lot of electric scooters have appeared - a new, modern means of transportation on which it is very comfortable and pleasant to take evening excursions. And here Olga was not left out. After all, now she is confident in herself and her health.
Having learnt from her own experience the importance of early diagnosis for the successful fight against osteoporosis, Olga, as part of her professional activities, is actively disseminating information about osteoporosis, the "silent" and dangerous disease.
The Krasnoyarsk Regional Center for Public Health and Medical Prevention under the direction of Olga Kutumova annually holds events dedicated to the World Osteoporosis Day. This includes educational lecture sessions for the public, involvement of other medical institutions of the Krasnoyarsk region, and work with the media.