Gennady Vasilyev
Age 57 • Russia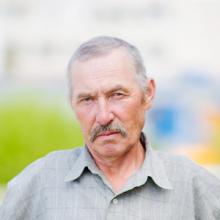 I was born in Anatkasy, a village in the Komsomolsk district, Chuvash Republic, as the son of a farmer and a veterinarian. I grew up in the post-war years when there were food shortages. My two brothers and I helped our parents a lot. We worked at the collective farm, helped at home, and gathered firewood. Life was not easy.
Our family kept a milk cow but we almost never drank milk – it had to be sold so the family could afford to buy the things we needed. Our mother only treated us to a big mug of milk on major holidays.
After finishing school I studied at the agricultural college and became a technician-mechanic. Soon I was called up for service in the Soviet army. I served in the frontier (border) guards in the Russian Far East. There I started to smoke and for more than 30 years I couldn't give up this harmful habit.
After the army I worked at a collective farm as a tractor-driver. Even now I have a passion for technology and engineering: sometimes I repair my neighbor's car or my grandson's moped. I got married at the age of 30, and now have two sons and grandchildren. I built my own house, chopped down a great many trees in the forest and harvested a lot of wood. In short, I did a great amount of hard physical work in my life and yet everything seemed fine.
In the nineties, when collective farms fell apart, I had to work at construction sites as a carpenter, bricklayer or laborer. I think that's where I may have ruined my health.
One day I fell and then found that I couldn't stand up. I was brought to the hospital emergency room. Doctors diagnosed fractured vertebrae. For two months I was unable to either sit or walk, experiencing severe pain at the slightest movement. At that point I thought of my mother, who at age 80 had broken her hip after a fall. Not long afterwards she passed away, as my father had earlier.
I was fortunate to be moved to the Center of Traumatology, Orthopedics and Joint Endoprosthesis in Cheboksary, where doctors operated on me. They injected cement in two vertebrae and inserted metal structures in order to reinforce my spine. In the hospital the doctors checked my bones and found that they are very fragile. A lot of tests were done and the outcome was sobering: although I am only 57 years old my bones look as if I were 80. This is likely due to smoking, little consumption of dairy products, and 'bad heredity', i.e. a family history of osteoporosis.
I was told to eat healthy foods and taught a variety of targeted physical exercises. I had to quit smoking. I was also banned from lifting weights and was prescribed special medications.
Three months have passed since the operation and I now feel well and can walk on my own. I still wear a corset. Pain decreased significantly and I can help my wife take care of the turkeys and chickens. I regret that it is still difficult to put the cattle to pasture. So far it's hard to drive a car too. The problem is in sitting for long periods of time. I believe that, with my doctors help, I'll achieve a positive result. Starting in September I am going to attend a 'School of Health' which will help me learn how to maintain my bone health.
I am grateful to my doctors who took good care of me. Above all, it is important to believe in recovery!