Maria Ivanovna
Age 79 • Russia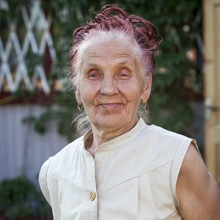 Osteoporosis has dramatically changed Maria Ivanovna's life.
As a former top-athlete who had graduated from the Sports University, Maria was a strong woman. Giving up her career in athletics after getting married, she chose to work as a welder – a job which requires physical stamina. Yet Maria had no problems juggling family life and work.
After Maria's husband died in 1993, she decided to spend more time with her daughter Valya and grandchildren – helping the young family by spending the summer months with the children at the Dacha and winter months taking the children to and from school.
Before, I was as strong as a horse. I could not calm down, I could challenge any man, could carry huge bags. I worked, took part in concerts and helped my neighbours. Everything was all right.
Maria was not diagnosed with osteoporosis until the mid-nineties. The diagnosis was made as a result of an X-ray which found vertebral compression fractures. At the time of the diagnosis, she did not feel great pain, only a pressure on her kidneys. The extreme pain began as a result of a fall which occurred while she was carrying her 4-year old grandchild. The child, not wanting to go to the baths, pushed back, causing Maria to fall. That's when Maria's life took a drastic turn: she suffered at least six vertebral fractures which caused 'infernal' pain and immobility to the point of paralysis.
I was like a granny. Everything hurt, I could not turn or anything. I could not stand. My daughter had to put me to bed slowly. Later, I still continued to try taking care of the family: cooking and cleaning on my knees.
With time and treatment, Maria's pain has subsided. She now lives on her own at the Dacha permanently. Here she can continue being mobile without the obstacles and risks of living in a busy city. She works in her garden, producing most of what she eats, and loves to have guests over for afternoon tea. When the colder months come, she sometimes even still uses her sauna, a must-have in any country home in Russia.
Without a doubt, her positive attitude and good humour help her deal with the challenges of osteoporosis, especially when living alone. She gets help from her children, who often come with groceries and amenities. She takes her blood pressure daily and keeps a log of it, presenting it to her doctor when he comes for a house call.
Although today the extreme pain has subsided, Maria still remembers the awful period when pain and paralysis dominated her life. She feels for all the younger people who are affected by osteoporosis, walking with their backs bent due to osteoporotic fractures.
I feel sorry for them, so young… I feel really sorry for them. I pray to God for people who can cure this illness.