Peter Watts
Age 55 • Ireland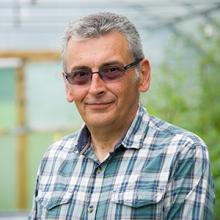 I owe the Irish Osteoporosis Society (IOS) a huge debt of gratitude for what it has done for me.
Working in England and commuting home to Cork on the weekends, I had been struggling with back pain for quite a few years.
About six years ago I began to suffer severe back pain and I went to see my doctor, who said it was just a strain, and gave me pain killers. A few months later I had to go back to my doctor as I continued to have severe pain. I insisted on being sent to the hospital where I had blood tests, an MRI and X-rays, among others, and was told there was nothing wrong with me. I honestly thought I was going crazy.
The pain would go away for a while and would then return. Sitting, standing and walking would be very difficult at times but because I had been told there was nothing wrong, I tried to ignore the pain I was in. Two years later I was outside doing some gardening and I hit my ankle lightly off a trailer, but it turned out I had fractured it and was in a cast for seven weeks. One year later, I broke the other ankle just putting on a pair of trousers. I just thought it was one of those daft things that happen when you get to fifty years of age.
A year or so ago, at age 54, I was made redundant and came home to Cork full time. I started on all the do-it-yourself jobs that I never had time to do when I was working and shortly after initiating them, I fractured my wrist. I saw my doctor again as my back pain was worse and once again I was given painkillers. At this point I was getting very frustrated because I could not do the things I wanted to do, without weighing up first how much of a risk I was taking and if it would hurt afterwards. At no point was the word osteoporosis ever mentioned to me.
I started snooping around the internet to see if I could find a good back brace and one of the sites that came up on Google was the Irish Osteoporosis Society. I e-mailed to ask if they could recommend a good back brace.
Michele O'Brien, IOS CEO, replied almost immediately with a phone number. I called and thank God I did! After I told her what I had been through, she suggested that I should get a DXA scan, telling me that approximately one in four men over the age of 50 have osteoporosis.
After I had a DXA scan taken of my spine and hips, I was told that I had severe osteoporosis in my spine including signs of fractures in my back. I had osteoporosis in my right hip and osteopenia in my left hip. The spinal damage had caused me to lose 3.5 inches in height.
Had I been diagnosed earlier, I more than likely would not have gone through all the pain I had to endure.
I was put on an osteoporosis treatment specifically for severe osteoporosis and spinal fractures and have been taking it without fail for the last two months. I already feel so much better and the pain is significantly less. It is early days but the IOS has given me lots of advice on diet, exercise etc and I feel hopeful for the future.
I now know that osteoporosis is preventable and treatable in the majority of people, but unfortunately only 15% are diagnosed (even though 50% of women over 50 have it) and 70% of patients diagnosed stop taking their osteoporosis medication within one year. I was shocked to hear this, as I could not imagine anyone leaving themselves open to multiple broken bones, loss of their independence and premature death.
Doctors do not appear to consider men at risk of Osteoporosis. I am sharing my personal story because I would not want anyone to go through the pain and suffering I have experienced, especially when it is preventable and treatable. Prior to being diagnosed with osteoporosis, I was sent for numerous tests which in total far exceeded the €100 that a DXA scan costs for the osteoporosis. Had I been sent for a DXA scan when I first complained of back pain, thousands of euros would have been saved and I would not have had to endure all the pain and suffering.
The lesson to be learned by my experience is that if you are a male with back pain or if you have broken bones in the past, you need to contact your local osteoporosis society right away.
In my case, the advice I received from the IOS was superb. Taking pain killers does not solve the problem and had I not contacted the IOS Charity, I more than likely would have ended up in a wheelchair in my 50's!
If you are in a position to make a donation to your local society, please do so. I'm sure they would be grateful for any support. The Irish Osteoporosis Society now only receives €4,000 a year from Government Funding and depends on donations in order to maintain its services. As I am a direct recipient of their services, I cannot stress enough how essential it is for people to support the Charity, which is the only organisation in Ireland that deals specifically with osteoporosis.
So thanks again IOS for your help and advice - keep up the great work!