Torsti Mattila
Age 61 • Finland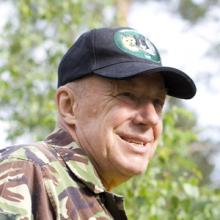 I am my parents' only child. I've been underweight all my life. At birth I weighed only 2.7 kg and was very slender as a child too. When I went to the army I weighed only 57 kg despite being 180 cm tall.
I was very sporty even at an early age. Because my father was one of the country's top-level skiers, he encouraged me to pursue sports. My diet, in my opinion, was healthy and varied. My dad hunted and fished a lot and we ate only natural, biologically grown foods. At an early age I did have a variety of stomach problems that are common in my father's family history.
As a six-year-old I had broken bones in my hand twice. Then, as a young man in the army, I was diagnosed with the so-called "march fracture of the foot" (stress fracture). Later, when I was working, I suffered a number of consecutive rib fractures. The physician was puzzled and quite a lot of tests were done, but no one mentioned osteoporosis – until 10 years later.
The discovery of vertebral fractures occurred by chance. I had fallen on the ice and I went to a physiotherapist for treatment for my sore shoulder. When examining my shoulder the physical therapist wondered why my back was so strange-looking and ordered an x-ray immediately – revealing that I had vertebral fractures. A few days before the fall on the ice I had pushed the car - and it was then that I had likely suffered the fractures.
Pain medication was started. My first reaction, and his, was that this was a case of work-related illness. After all, I had by then been working in the chemical field for 25 years. I had had some back problems in the past, but nothing serious. This time the pain was so intense that I had to resort to painkillers. However, with prolonged use there was no benefit, and my stomach could not take any of the drugs.
At the hospital rehabilitation centre the decision was made to treat me with injections of bone cement. This was done one year after the fracture. I understand that the operation was very expensive – and unfortunately the benefit for me was very negligible. My own view is that the operation was carried out too soon. The operation would probably have been more successful now because my bone density has increased and my bones are in better condition than they were at that time.
I felt very alone following my osteoporosis diagnosis. After all, I didn't know of any other men with osteoporosis.
I then heard about the local osteoporosis association and became a member. Knowing that there were other people with the same problems helps, and the Association gave me lots of support and relevant information. After that I took part in a rehabilitation course organized by the Finnish Osteoporosis Association. Since then, I have been involved in the operations of the Association.
I was initially on medical treatment for five years and my bone density has continued to increase these past two years. At the beginning I was prescribed normal oral doses of a drug which did not agree with me. Then I wanted to try another osteoporosis drug, but the doctor said that men do not receive compensation from the Social Insurance Institution for this drug, and I would have had to pay more than 500 € per month. Looking through the internet I found a drug that is used to treat congenital osteogenesis. The doctor agreed to give it a try. It was given every six months directly into a vein. I noticed at first that the drug also helped the pain significantly.
Last winter was bleak. I fell, resulting in two vertebral fractures. Apparently my bone structure was not as good as the bone mineral density measurement result suggested. After that I got a new bone drug, which is injected daily. I hope this drug is able to improve the condition of my bones.
As a young man no one questioned my history of fractures. Had I known then what I know now I would have taken better care of my bone health. For me it may be too late, but for my oldest son there is still hope. He was given a bone mineral density test by DXA in June 2003 at the age of 17. The result was bad: - 1.9. After this, he took vitamin D and calcium supplements and ate healthy protein-rich foods. A year and a half later he underwent a repeat measurement of the calcaneus and DXA measurements. The figures were improved -1.1: He was then at an age when bone is still building up – and it is possible to make a difference if you take early action.
My father was found to have osteoporosis nearly 10 years ago, at around the age of 75. The entire family, my dad, me and my three sons, were assessed by the skeletal studies section of the Department of Genetics. My father had never had a broken bone, but his back had been sore since the age of 30. The department found that he had osteoporosis in the spine.
Osteoporosis has had a serious impact on my life. Due to the serious back injuries I've been on a disability pension since 2004. Prior to that, I had a number of long-term work absences due to the vertebral fractures. As a result of the fractures I cannot lie in bed or sit very long. I have had to change my exercise regimen. Swimming is a good exercise for the muscles, and one of the hobbies I most enjoy is going out hunting with my dog. I can walk in the woods, rest in between and continue when I feel up to it.
In fact, I would say that for a long time the best analgesic has been my many hours spent in the forest!