Yulia Petrakakis
Age 65 • Greece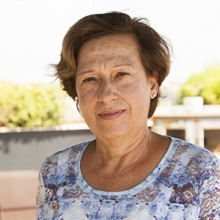 It was twenty-two years ago that, while attending a few seminars in the United States, I learned about osteoporosis. This led me to have my first bone mineral density measurement test (I was 44 years old). At that time it was found that I had osteopenia.
Later, while living in the USA and during a trip to Mexico, I suffered ankle fractures as well as upper and lower limb fractures.
The cause was osteoporosis, given that it was a low-trauma fall. Since then, my osteoporosis has gotten worse and I have become prone to fractures.
To date, I have suffered at total of seven ankle fractures and one spinal fracture.
Due to osteoporosis I had a longer recovery time, with all the relevant consequences: change in my everyday life, long-term withdrawal from my workplace, social isolation, difficulty in execution of housework, exercising, dancing, driving and shopping!
Weight-bearing exercise was not possible due to the multiple fractures and having to wear a plaster cast for a long time – however, my recovery was assisted by the opportunity I had (in the building I was staying in) to make use of the swimming pool. I swam on a daily basis, in the mornings and afternoons, which thankfully contributed to a high extent to my muscular endurance and my short-term recovery. 
When I returned to Greece, I had a full medical check-up, while taking my medication according to my doctor's advice. I tried to pay attention to my diet, with the consumption of dairy products in the right quantities on a daily basis.
When my physical condition improved enough, I included physical exercise as well as dancing in my weekly programme.
Then, I had the chance to meet the Greek patient organization 'Butterfly Bone Health Society' during its annual conference. Since then I have maintained contact with the Society and by attending seminars and events I keep myself up to date with the latest news concerning the disease.
In conclusion, as a patient and woman, I would like to communicate some important messages to women worldwide. I urge you to: 
Have check-ups regularly 
Follow the advice of your doctor
Include the right diet and exercise into your lives   
Contact your local patient society.
By getting involved with your patient society you can, apart from learning valuable information about osteoporosis, also make new friends and receive psychological as well as emotional support.